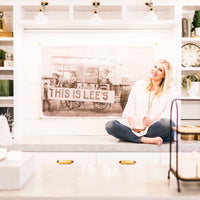 Welcome! I'm Morgan and I'm so happy you're here!
A little bit about me, I was born here in Tulsa but was raised mostly in Southwest Missouri. Its been a dream of mine to have my own little shop for as long as I can remember. I was the kid scanning in the groceries that my mom just brought home over the kitchen counter. In this picture behind me is a blown up family photo that says THIS IS LEE'S... my great-great grandfather, T.A. Lee, owned a hardware store called Lee's in Collinville, OK which was passed down through generatiions to come and was in business for 95 years! The success of his store is my inspiration and reason why I placed this photo behind our counter in our first location. Also, my middle name is Lee :)
My mom then had a shop of her own that I ran for her for a few years before coming and opening my own. So you can say retail runs in our blood! I opened my own shop, Modern Cottage, in 2017 and it's been such a joy everyday! God gives us all a passion, and it's up to us to flourish with it. With alot of hard work and determination your dreams can come true!
I LOVE meeting you all in the shop so I invite you to come shop our brick and mortar store on historic Cherry Street in Tulsa, Oklahoma! You're sure to see either me, my mom or our sweet little shop goldendoodle, Mia! But in the meantime shop our goods here. We're adding new items all the time!